Colorful Pink Room
And they're back with these awesome (and affordable) pieces!
Princess grunge in an embellished skull motif oversized tee;
ripped denims and summer pants.
Pre-Order/Prices as shown below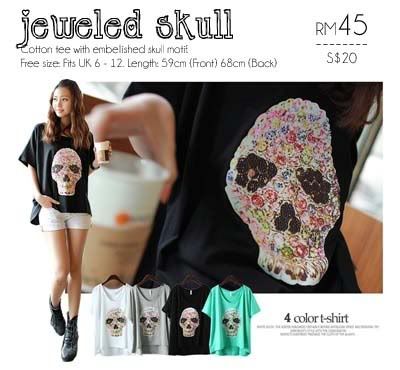 Highly recommended update. ;)
Of basics in teasing white lounge tops and retro cropped tops,
As well tres' chic leopard print and colour block Zara inspired highwaists.
Price unstated
Phat Culture
Uber cute with a sophisticated oriental twist. ;)
If you missed their first installment of the oriental inspired playsuits, best grab your hands on this!
Pointed cap sleeves, features a V-neckline with wrap front design.
Self tie sash ensure optimum fit whilst the loose-cut shorts enable breathability in the hottest weather. ;)
All over cute sparrow prints on peach.
Light weight and relaxed finish.
RM 61
roll 'em sleeves up and paired with denims for the ultimate surfer chic girl; or with black skinnies and a beret for that french sophistication.
Au naturel sailorette babe. ;)
Cropped top with extended back length in jolly red white stripes.
Long sleeved and single functional pocket at the front.
Comfy cotton.
RM 39
mango+Orangie
Parties, cocktail dinners and a night of dancing beckons. ;D
Personally, am a HUGE fan of this duo-toned bodycon!
Provocative, daring and deliciously sexy. ;)
Contrast high neckline and below-bodice paneling, with side bodice exposure --
rawr.
Quality guaranteed. Best fit a size M.
RM 58